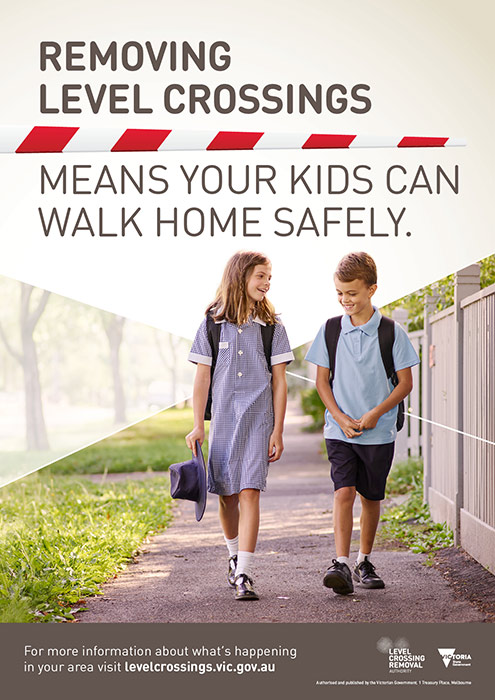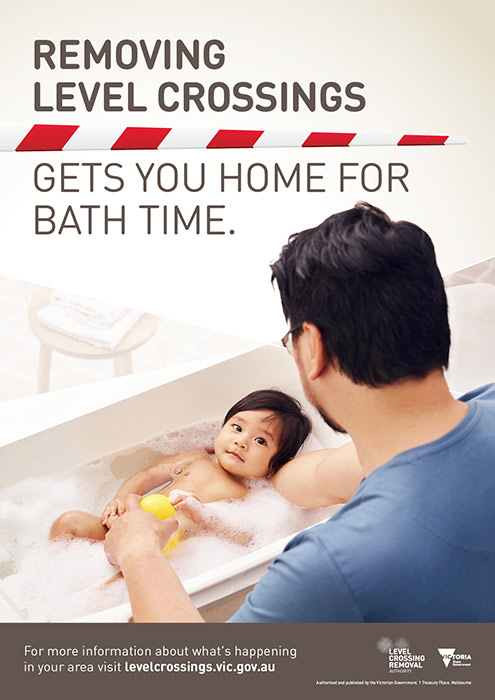 Posters
These posters help highlight the benefits of removing Melbourne's level crossings. I worked with my art director in the concept stage to find the right composition and feel. After a photoshoot, I retouched the shots and designed the layout. This layout was then adapted across poster, billboard and digital specs.
Adaptable Press Layout
I also designed a press layout, reflecting what we were doing with the primary key visual. As these press ads tend to get very information heavy, I split the elements into easily digestible snippets, using colourful icons and box systems to house each bit of information. These were set up into a template that could be adapted for a variable amount of content.
LXRA Office Fitout
The Level Crossing Removal Authority needed something for their new office walls. This would be a mix of photography and graphical elements: reflecting ongoing planning and construction work.
The office was open and light-filled: heavy graphics wouldn't be appropriate. These needed to be visually strong, but not overpoweringly so.

I creating a connecting dots pattern to tie together all walls and elements. Each crossing to be removed is represented by a closed circle, connected to each other via their railway lines. These are then cross connected to create the finished pattern, representing the connection between railway lines and their relationship between each another.
It was important for the artwork to retain as much white space as possible. With that in mind, I created sets of shapes for each level.
Level 9 has tall diagonal stripes, reminiscent of the pattern found on level crossing barriers. Level 10 has angular triangles converging to a point, directly derived from the visual perspective of a platform's safety yellow line.
The frosted windows are set up as a cropped preview of a specific railway line, with the crossings to be removed marked.
While each level has it's unique shape, they share treatment, elements and the connecting dot pattern. I selected colours that complement and tie in directly with the office furniture each individual wall sits next to.
I mapped the office so that each area has a specific line assigned to it. So, imagery of construction on the Frankston Line has frosted glass of the Frankston line next to it. And so on.
This pin wall is one of the first things seen on arrival at the office. Each of the 50 crossing sites is represented by a large pin bolt, and physically linked to each other along their railway line. As each crossing is removed, each pin will be replaced with a green pin.
Responsibilities
Concepting
Design
Retouching
Artworking
Outdoor Billboards
Digital Billboards
Posters
Press
Brochures
Event collateral